Clean and Freshen Your Fridge with Our Service for Fridge Cleaning in Finchley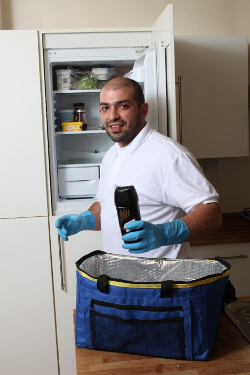 Your refrigerator may look clean, but does it smell clean? Are you sure that every nook and cranny is bacteria free? Our fridge cleaning in Finchley N3 offers you peace of mind and the freshest possible cold food storage. This service utilises some of the tools and methods we use for oven cleaning. It's fast, low-cost, and our eco-friendly, toxic-free cleaning products are guaranteed to leave white goods odourless and perfectly hygienic. Use it for your fridge and for your freezer, too.
Count On Our Fridge Cleaning Services
 When you hire our fridge cleaning services you are getting more than just a powerful and effective clean, you're getting a service that is all about you, from the affordable price on your bill to the evening appointment slot that fits your schedule. And that's not all:
Highly trained and seasoned cleaners available 7 days a week
All cleaning products are eco-friendly so safe for you and your family
Comprehensive and extensive cleaning to ensure a hygienic environment
No unpleasant odours during or after the clean
Food will be replaced in a safe food storage area
Get details on how to qualify for your very own discount over on our special offers page, while our affordable standard rates can be seen on our prices page. Our other services include barbeque cleaning and a whole lot more!
A Comprehensive Refrigerator Cleaning Service
Our principal goal is to carry out a refrigerator cleaning service that leaves your appliance hygienic and clean all over, inside and out. In order to achieve this we'll carefully disassemble your fridge exposing every inch for a deep, healthy clean. All food residues and bad odours will be banished forever. The demountable parts are soaked in an eco-safe disinfectant, melting away dirt and unsightly stains. The body of your fridge will be sanitised after manual cleaning, leaving your fridge germ-free.
Get Expert Cleaning and More with The Professional Fridge Cleaners
The professional fridge cleaners come to you after completing in-depth training and passing our stringent vetting and reference checks. They'll arrive fully equipped and ready to get to work at a time of your convenience and are always smartly turned out. As well as this, we're fully insured to allow you to relax in the knowledge that you and your property are fully protected. So whether you need freezer cleaning, refrigerator cleaning or both, you can bank on us to take care of it for you - check out our testimonials page to see for yourself.
Get Expert Refrigerator and Freezer Cleaning When You Book Us
Whenever you need freezer cleaning or refrigerator cleaning just dial 020 3404 2736. Ask for a free price quotation over the phone or online. Make your booking over the phone or online! Our convenient contact form is really easy to use. We're here to help any time of the day or night. There's no extra cost for calling at the weekend. Our website also has a chat facility if you prefer to talk to an adviser this way. However you choose to contact us we'll be ready and able to help.
Before you make a booking you must agree with our Cleaning Services Terms and conditions.